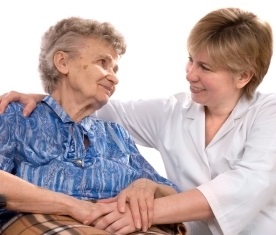 Nursing Care
Heliosa provides professional and sensitive nursing care and support by nurses experienced in all types of elderly care.  A GP is attached to the home and visits daily or as needed, as well as a local pharmacy who deliver medications daily.
Our nurses are chosen for their compassionate and caring nature, and their understanding and experience in elderly and dementia settings.  They are able to provide 24 hour nursing and medical attention to patients with all types of conditions.
Palliative Care
Our prime concern is to manage pain, promote dignity, deliver a person-centred approach and provide a support system to the resident and those close to them.
Our peaceful environment and comfortable rooms, along with gentle, caring staff, provide residents with a sense of family and restfulness.  Family are encouraged to spend as much time as the resident wishes with them and staff are always there to listen.  Respect for the choices people make for the end of their life is always given.
My mother spent the last six months of her life at Heliosa. The care from all the staff was without question 'second to none'. They went that extra mile to make sure that my mums last few months were as lovingly cared for as she was in her own home. I shall never forget their kindness. I would recommend this home to anyone who wished to have peace of mind for their loved ones welfare.
The simple word of 'thanks' sometimes feels not enough. For the wonderful care my mum has received from everyone. The overwhelming love and compassion shown at Heliosa has been second to none. Each and everyone have gone that extra mile to ensure my mum was so very well looked after. Each day was a pleasure to visit, for the love you show is awe inspiring to both family and residents.